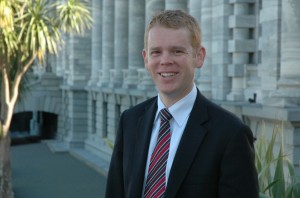 Chris Hipkins is Member of Parliament for Rimutaka. He is currently ranked number 6 in the Labour Shadow Cabinet and is the Opposition Chief Whip, Shadow Leader of the House and the Labour Party's spokesperson for Education. Chris sits on the Education and Science Select Committee, Parliament's Business Committee, the Standing Orders Committee and the Parliamentary Privileges Committee.
Chris passionately believes that every New Zealander deserves the opportunity to reach their full potential in life. He is a staunch advocate for and defender of our public education system.
A Hutt Valley local, Chris has worked in both the public and private sectors. Chris is passionate about the Hutt Valley, his home, a place that he believes is "bursting with energy and potential". An outdoor enthusiast, Chris is particularly keen on mountain biking, tramping and swimming. Chris currently lives in Trentham, Upper Hutt.
Background
Chris was born in Wellington in 1978. He attended Waterloo Primary School, Hutt Intermediate and Hutt Valley Memorial College (later known as Petone College), where he was the Head Boy in 1996. Chris went on to complete a Bachelor of Arts majoring in Politics and Criminology at Victoria University.
Shortly after starting university, Chris became actively involved in student politics. He was a member of the students' association executive for four years, including a year as Vice-President and two years as President. During that time Chris was a member of Victoria University's governing council and sat on many council committees. Chris was also the regional chairperson for Student Job Search.
After completing his initial tertiary study, Chris worked in the industry training sector. He worked as a policy advisor for the Industry Training Federation of New Zealand before taking up a more hands-on role in the oil and gas industry, where he managed training and apprenticeship programmes for several large companies.
Chris joined the Labour Party in 1996 and has been an active member ever since. He has been involved in numerous campaigns and held several offices. Chris has also worked at parliament, first as Senior Advisor to the then Education Minister Trevor Mallard and more recently advising Steve Maharey and Prime Minister Helen Clark.
Chris has travelled and lived overseas and regards himself as a "proud Kiwi". He places a strong emphasis on social justice and believes that every New Zealander should have the opportunity to reach their full potential. Chris is an outdoor enthusiast, with particular interests in biking, skiing and body boarding.
In December 2007 the Labour Party selected Chris to be their candidate for the Rimutaka electorate during 2008. The retiring Member of Parliament, Paul Swain, said that Chris was a popular choice amongst local party members and represented the rejuvenation that Prime Minister Helen Clark had been calling for. Chris was elected to parliament in November 2008.
---
Chris Hipkins currently holds the following roles within the Labour Party opposition:
Opposition Chief Whip
Shadow Leader of the House
Spokesperson for Education
Chris Hipkins has previously undertaken the following roles for Labour:
Spokesperson for State Services
Spokesperson for Forestry
Associate Education Spokesperson
Spokesperson for Internal Affairs
Spokesperson for Accident Compensation (ACC)
Associate Energy Spokesperson
Spokesperson for Sport and Recreation
Chris Hipkins is a member of the following parliamentary committees:
Education and Science Select Committee
Parliamentary Business Committee
Parliamentary Standing Orders Committee
Parliamentary Privileges Committee
Parliamentary Service Commission
Chris Hipkins has previously served on the following parliamentary select committees:
Government Administration
Regulations Review
Transport and Industrial Relations